Welcome to Class 6!
2023-2024
Teacher: Mrs Brunning
Teaching Assistant: Mrs Scott
Learning Parliament Representatives: TBC
Hello, and welcome to our class page!
Our PE days are Monday and Wednesday. Homework will be given out on a Monday and needs to be handed in by the Friday. Children will have their reading book changed at least once per week during their RWI sessions, and their diaries will be checked on a Monday morning. We expect children to read and have their diary signed at least 5 times a week. They will be rewarded with house points for their efforts.
Important dates for the Advent term:
Wednesday 18th October- Meet & Greet
Thursday 26th October- Class Assembly
Monday 6th & Wednesday 8th November- Termly Learning Conferences
Thursday 14th & Friday 15th December at 2:15pm- KS1 Nativity
If you need to contact me, please email me using the address: class6@stgeorges.derby.sch.uk
I will do my best to respond within 48 hours, during working hours of 8am-5pm Monday to Friday.
Class Rules
During our transition days back in July, we wrote our class rules and made a short video showing these rules in action! Take a look:
Letters and Other Important Documents
Class Timetable 2023-2024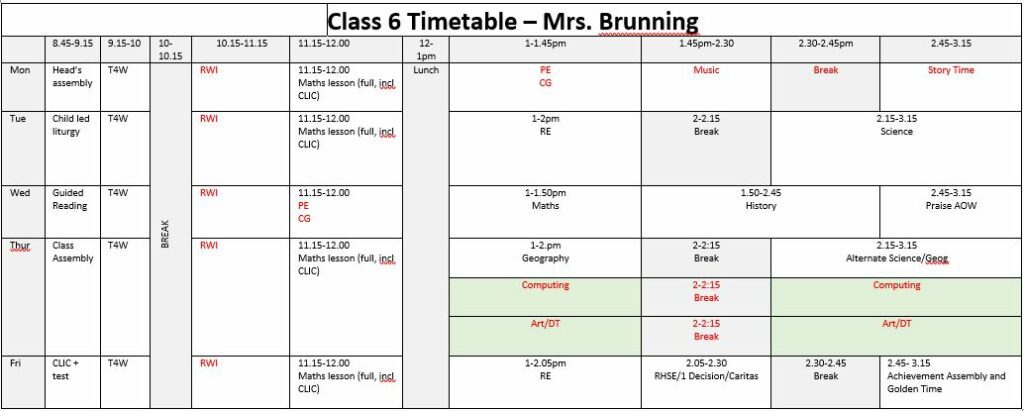 RE/RSE
This term, we will be looking at the topics: Beginnings, Signs & Symbols, Judaism and Preparations. As well as this, we will continue to have our daily acts of worship either as a class or whole school.
Take a look below at our RE knowledge organisers.
RSE/PHSE
We will continue to be using the TenTen resources for RSE, and a programme called 1 decision to teach PHSE.
Knowledge Organisers
Beginnings Knowledge Organiser
Signs And Symbols Knowledge Organiser
Maths
Each half term, we will look at the 4 calculations as well as other areas of maths, such as shape and time! Our homework is designed to revisit past learning as well as explore further the current learning we are doing. If you want to find out more about our maths curriculum, please visit the maths curriculum page of our website.
Reading and Writing
Children will still continue to learn their sounds and reading skills through RWI. Please continue to use the reading books at home to encourage word reading development, as well as understanding the text.
This term we are exploring the text "Jack and the Beanstalk." We will then be writing a recount in the form of a diary entry. Please find a copy of the text map in your homework book.
Science, History and Geography
This term in science, we will cover a range of topics at a basic/advanced level. The idea is we then revisit these topics again later on in the year at a deeper level. So we will cover everything from plants, to animals, to materials and more!
Within History we are looking at: Martin Luther King & Rosa Parks and their impact on the Civil Rights Movemement. We will also be revisiting our learning on Neil Armstrong and discussing the space race. In Geography we are having a focus on world maps. We will be looking at labelling key areas on a world map, as well as revisiting knowledge on the continents and oceans. Below you can find knowledge organisers for these topics to discuss with children at home.
Knowledge Organisers
Neil Armstrong And 1st Man On The Moon Knowledge Organiser
Rosa Parks Knowledge Organiser
World Maps Knowledge Organiser