We believe that RE in a Catholic school enriches every part of school life.
Our Mission is to help our school community: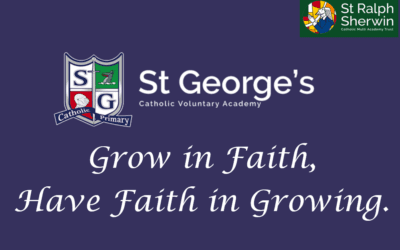 As a staff, we are dedicated to setting good examples and expressing our own faith in our teaching and through our care for pupils. We seek to enable our children to learn more about and appreciate the Catholic faith regardless of gender, cultural background or ability. 
 The aims of religious education are to help children: 
Develop an awareness of spiritual and moral issues in life experiences;

 

Develop knowledge and understanding of Christianity and other major world religions and value systems found in Britain;

 

Develop an understanding of what it means to be committed to a religious tradition;

 

Be able to reflect on their own experiences and to develop a personal response to the fundamental questions of life;

 

Develop an understanding of religious traditions and to appreciate the cultural differences in Britain today;

 

Develop investigative and research skills and to enable them to make reasoned judgements about religious issues;

 

Have respect for other peoples' views and to celebrate the diversity in society.

 
Curriculum Intent
At St George's School, we develop the children's knowledge and understanding of the major world faiths and we address the fundamental questions in life, for example, the meaning of life and the existence of a divine spirit. We enable children to develop a sound knowledge not only of Christianity but also of other world religions. Children reflect on what it means to have a faith and to develop their own spiritual knowledge and understanding. We help the children learn from religions as well as about religions. 
At school, we follow 'Come and See' as our core scheme of work. Our specific planning approach is taken from this scheme. This distinguishes RE from other subjects and so reminds us that RE is unique and special within our curriculum. Throughout a range of topics, children are exposed to the mystery of God, the teachings of Jesus Christ and the Church, lives of Saints and the relationship between faith and life. These are explicity taught in RE, though we develop and encourage them through our Catholic Life and Collective Worship. 
Religious Education is taught within its own right using the 'Come and See' scheme. 10% of curriculum time is devoted to Religious Education excluding assembly and Acts of Worship time, as advised by the Bishops of England and Wales. 
We aim to create an environment where acceptance, respect, mutual trust and love are evident and to foster a sense of self worth. We endeavour to help each child to think, appreciate, question and work for what is good as they grow in faith. We support our children to develop a desire to search for meaning through the experiences they have in their everyday lives. We work tirelessly to guide children to question and grow in faith as they develop their spiritual quest.  
Other Faiths
As part of our RE curriculum, we teach and learn about other faiths throughout the year. We regard it as essential that our children develop an understanding and respect of other faiths, especially living in such a richly diverse city as Derby.  
Therefore, we have a week off timetable, where we focus purely on a different faith e.g. Sikhism, Judaism, Hinduism and Islam. We teach the children that Jesus showed respect for those within and outside his own faith, and because we learn from Jesus, we must also do the same. The Church calls us to be committed to respecting people of other religions and therefore children are invited to learn, reflect upon and gain insight.